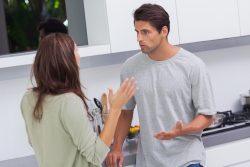 An unresolved argument can make a person feel emotionally stressed. But a study by the Oregon State University has shown that resolving an argument can erase or reduce almost all of the emotional stress associated with it. The study used data from the National Study of Daily Experiences that had surveyed more than 2,000 people about their experiences and feelings for 8 days.
They interviewed the participants about their reports of arguments they had. The researchers wanted to know whether they had arguments, or instead, avoided them so as not to have a disagreement. They could then measure how the occurrence affected the person's emotions either negatively or positively for the day of the incident and the day after. If a reaction occurs the day of the argument it is considered as "reactivity", while the next day's emotion is called "residue". Researchers found that when the people resolved the argument the same day they reported the reactivity was half of those who reported the argument had not been resolved. But if the argument was avoided or not resolved, on the following day the results were worse.
Stress is a normal emotion in a person's daily life. You cannot stop certain situations from being stressful. But if you can learn to bring the emotional response to an end by resolving it the same day the payoff to your well-being will be immense. It is quite important for maintaining overall health on a daily basis.
Chronic stress has long been known to affect general health. Depression, anxiety and even physical problems such as gastrointestinal issues, a weak immune system and heart disease have all been associated with stress. Major chronic stressors such as violence or poverty can cause damage to your emotional well-being. But just day-to-day stressors that are minor, such as inconveniences can have impacts on cognitive function, inflammation and even mortality.
This study also took into account age difference in the responses to arguments and those that had been avoided. They found that adults 68 and older reported that their arguments had been resolved 40% more than people aged 45 and younger. But, regardless of age, the impact of resolving the argument's status either negatively or positively remained the same.
The researchers explained the older adults' rate of resolution as being higher because they can be motivated to minimize these feelings since they have fewer years in their life left. They also determined the older adults have more experience resolving, avoiding or defusing conflicts. They are more motivated to ensure that their emotional well-being is healthy, therefore, doing a better and maybe faster job at resolving stressors.
Of course, a person cannot control the stressors that come into their life and not knowing how to deal with it is in itself an emotional stressor, but learning to control their emotional response is beneficial. If you can defuse the stress so that it does not have an emotional impact on you during the day or days after it will help reduce the potential long term impact.
To view the original scientific study click below:
Want a longer, healthier life? Resolve your arguments by day's end, OSU study says