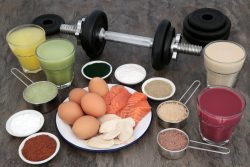 It has been found from reviewing 49 studies from 1800 weightlifters that increasing protein intake by double the amount increased strength by 9% and added about 1 lb of muscle growth. The participants worked out for 6 weeks and lifted weights at least twice per week.
The amount of protein used in the studies was the recommended dietary allowance (RDA), which is 0.4 grams for the average person per pound of body weight. When working out with strength training and increasing protein intake it was found that any additional gain in muscle strength levels off at 0.7 grams. The extra protein consumed presented less muscle growth with aging.
The researchers found that the type of protein consumed, whether dietary or from supplements, made no difference in the amount of muscle gained. You do need more protein when trying to increase muscle growth, but consuming more than double the RDA did not change the outcome.
To add additional muscle growth, it was found that going to the gym and performing resistance exercises is what increases muscle growth. It could be beneficial to consume up to twice the protein but any extra amounts of protein from any source did not grow larger muscles. Maximum muscle can be gained from eating protein up to 50-70 grams per day.
From 15 previous studies it was shown the supplementing protein for older weightlifters offered no benefit. You cannot just eat extra protein and expect to increase muscle. With aging, almost any person will lose muscle strength and size. But you can decrease this loss brought on by aging with performing resistance exercises on a regular basis.
When you work a muscle it breaks down. In order for it to heal and grow any combination of foods that contain protein and sugar will promote healing. Protein can be found in nuts and seeds, beans and all animal products such as dairy products, eggs, fish, poultry and meat. A variety of these foods can meet the protein needs for muscle growth.
To view the original scientific study click below:
A systematic review, meta-analysis and meta-regression of the effect of protein supplementation on resistance training-induced gains in muscle mass and strength in healthy adults