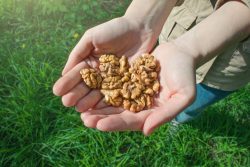 Following a two year study of participants who ate a handful of walnuts every day showed lower levels of LDL(low density lipoprotein) cholesterol when compared with the participants levels at the start of the study. They also showed a reduced total cholesterol. The study was assisted from a grant by the Calfornia Walnut Commission.
An increasing body of scientific study has suggested that walnuts which happen to be high in omega 3 fatty acids may also protect against heart disease.
Throughout the years much study has researched whether eating walnuts might decrease cardiovascular disease risk factors. A 2019 meta analysis linked higher consumption of walnuts with a decreased cardiovascular disease mortality of disease which included coronary heart mortality and heart disease incidence and lower atrial fibrillation.
A recent study has investigated whether adding walnuts to the daily diet for two years specifically influences cholesterol levels. This study focused mainly on older adults.
The researchers discovered that adding walnuts to the diet did decrease total cholesterol and modestly decreased lower levels of LDL cholesterol which is referred to as the bad cholesterol.
They researchers measured the participants subclasses of LDL cholesterol and one of the subclasses known as small dense LDL particles, are more often linked with atherosclerosis which will occur when deposits of fat build up in the arteries.
In this study they discovered that eating walnuts daily decreased both the number of small LDL particles and total LDL particles.
The team studied the benefits of consuming walnuts for many years. They always found good results in regards to lower cholesterol (standard lipid profile), reduced blood pressure, improved endothelial fuction and anti-inflammatory effects.
Dr. Ros,the senior editor of the study, sings the praises of eating walnuts and has included them in his daily diet. Walnuts have a vital composition of bioactives and nutrients including large amounts of alpha-linolenic, omega 3 fatty acids which are the highest polyphenol content of all the nuts.
This research in this study shows that consuming walnuts will lower LDL cholesterol and also improve LDL particle quality which will render them less prone to enter the arterial wall and therefore, build up atherosclerosis which is the basis of cardiovascular diseases. And this will happen without unwanted gain of weight although they are high in fat which is healthy fat.
The study included 636 participants from 63-79 years of age all residing in Spain, Barcelona or Loma Linda, CA. 67% were female and all participants were healthy cognitively and also had no major health conditions.
Almost half of the participants were taking medicine for high blood pressure which is typical of this older population. 32% were taking statins.
The team had one group of the participants not consume any walnuts at all. The other group of participants added one-half cup of walnuts to their daily diet. The participants were monitored by health practitioners who were watching for how well the participants were following each diet and also any weight changes on an every other month time frame. Within the group of participants who ate walnuts, LDL cholesterol changes did differ by sex. In the females LDL fell by 2.6% and in the males it fell by 7.9%.
While not a game changer, the study already has shown what researchers know about the heart and diet. It is already known walnuts are great for a person's health. It is appreciated that the study was over two years and not just a study over two weeks.
The study participants only showed a modest drop in LDL cholesterol. The reduction does not rise to the level of what a person gets from taking stains. Therefore, people who are at an increased risk who already have heart disease or at risk of developing heart disease, should not substitute nuts for statins. They should add walnuts to their diet along with their statins but not replace them.
In the future Dr. Ros would like to study the impact of adding walnuts to the diet of people at risk of experiencing cardiovascular diseases. Also, he does not support downing a bag of walnuts each day but adding no more than a handful or one-half a cup.
It has also been pointed out that this study was not blinded – the participants knew they were in the group consuming the walnuts. Also the study was not held in a feeding setting that was controlled but in individuals who were able to choose their daily diet, therefore, it was not an equally active intervention. And there was also an increase in fat intake and energy in the group who consumed the walnuts which could have influenced the results.
To view the original scientific study click below:
Effects of Walnut Consumption for 2 Years on Lipoprotein Subclasses Among Healthy Elders: Findings From the WAHA Randomized Controlled Trial