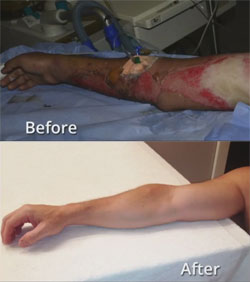 When a person is severely burned it is a serious skin injury. Typically the treatment involves grafting a layer of skin from a healthy part of the body to the injured area. Once the grafted skin heals which can take some time there is usually very unsightly scarring which the person has to live with the rest of their life. If the scarring is on the face the disfigurement can cause major emotional problems. Also grafted skin often lacks flexibility which leads to pain, stiffness and other problems.
What if there was a way to isolate stem cells from healthy skin, process them and spray them on the burned or injured area. The stem cells would generate fresh new skin within days and without scarring or other problems associated with grafting. This might seem like one of those articles about a stem cell technology that is in the research and development stage with the prospect that it will be available for actual human treatment in 10 or 15 years, however it has already been successfully used to treat human burn patients in Europe. An actual example is shown in the before and after image. This treatment can also be used for cosmetic purposes such as replacing scar tissue with healthy new skin.
The CellMist? Solution is a new invention that involves a liquid suspension containing a patient?s own regenerative skin stem cells. A small sample (as little as a square inch) of the patient?s skin is quickly processed to liberate the stem cells from surrounding tissue. The resulting product is referred to as the ?CellMist? Solution? containing the patient?s stem cells. The CellMist? Solution is placed in a device called the SkinGun? for spray application onto the patient?s wound.
The SkinGun? sprays the cells onto wound sites to begin healing. Unlike conventional aerosol and pump systems, this next-generation fluid sprayer does not expose fragile cells to strong forces that can tear them apart. Instead the SkinGun? gently delivers the CellMist? Solution directly to the wound site using a positive-pressure air stream.
RenovaCare, a developer of novel medical grade liquid spray devices and patented CellMist? and SkinGun? technologies*, announced favorable outcomes from laboratory studies conducted by Berlin-Brandenburg Center for Regenerative Therapies (BCRT), a translational research center at Charit? Universit?tsmedizin Berlin, one of the world?s largest university hospitals.
The goal was to work towards the use of CellMist? and SkinGun? technologies to quickly isolate a patient?s own stem cells and gently spray them onto burns and wounds for rapid self-healing. The results of a new study provide pre-clinical support for first isolating keratinocytes from skin samples, and subsequently achieving even and gentle spray application without harming these powerful yet delicate cells.
Charit? scientists presented their findings from in vitro studies at the EPUAP Focus Meeting 2016 in Berlin, Germany. Data demonstrated that human skin stem cells sprayed with the company?s patented SkinGun? device maintained 97.3% viability. Cell viability is essential to regenerating skin for burns, wounds, and cosmetic applications. Cell growth was comparable to pipetting, the industry?s widely accepted ?gold-standard? for the deposition of cells.
The results show that the described method consistently allows isolating keratinocytes with characteristics suitable for therapeutic applications. This indicates that use of the SkinGun? for spray application of keratinocytes may allow for even distribution of cells with no impairment of cell viability or cell growth when evaluated in vitro, in contrast to those evaluations with conventionally seeded cells, according to study authors, Dr. Christa Johnen, Nadja Strahl, and Dr. Katrin Zeilinger.
Among specific aims of the study, was evaluation of several factors important to the regeneration of human skin, including cell yield, viability, metabolic activity, and cell growth. Positive results were reported from experiments related to each of these investigations. After spraying skin stem cells using the RenovaCare SkinGun?, investigators recorded favorable metabolic activity from measurements of glucose consumption and lactate release. Cell morphology was evaluated by microscopic observation, and cell integrity was determined by LDH release.
The study was funded by RenovaCare, Inc. Tissue samples for skin cell isolation were obtained from surgical treatments with approval of the Charit? ethical committee.
*RenovaCare products are currently in development. They are not available for sale in the United States. There is no assurance that the company?s planned or filed submissions to the U.S. Food and Drug Administration, if any, will be accepted or cleared by the FDA.
RenovaCare, Inc. is developing first-of-their-kind autologous (self-donated) stem cell therapies for the regeneration of human organs, and novel medical grade liquid sprayer devices.
In addition to its liquid spray devices for wound irrigation, the company?s pipeline products under development target the body?s largest organ, the skin. The RenovaCare CellMist? System will use the patented SkinGun? to spray a liquid suspension of a patient?s stem cells ? the CellMist? Solution ? onto wounds. RenovaCare is developing its CellMist? System as a promising new alternative for patients suffering from burns, chronic and acute wounds, and scars. In the U.S. alone, this $45 billion market is greater than the spending on high-blood pressure management, cholesterol treatments, and back pain therapeutics.
A video of a patient who was treated for severe burns can be viewed at https://renovacareinc.com/2016/07/burn-recovery-video-state-trooper/