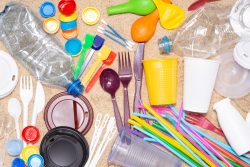 Plastics can have and impart to a human a variety of dangerous chemicals including endocrine disrupting chemicals (EDCs) that pose a threat to human health. A new report has reported the dangerous health effects of contamination that is widespread from the EDCs in plastics.
The report from the Endocrine Society and the Int'l Pollutants Elimination Network has shown that EDCs such as chemicals that will disturb the body's hormonal systems and may lead to diabetes, cancer, reproduction problems and also neurological problems of fetuses and also children. This report entails a preponderance of evidence that supports links between chemical toxic additives in plastics and certain negative impacts of health to the endocrine system.
Estimates that are conservative at this time point to more than 1,000 chemicals that are manufactured are being used today which are EDCs. Known EDCs that come from plastics and that are dangerous to a humans health such as bisphenol A and other chemicals, phthalates, flame retardants, per- and polyfluoroalkyl substances, UV stabilizers, dioxins, and metals that are toxic such as cadmium and lead.
Plastics which contain EDCs are used extensively in construction, packaging and production of food, flooring, children's toys, cookware, furniture, health care, home electronics, cosmetics, automobiles and textiles.
Some findings in the report are:
144 chemicals or groups that can be detrimental to health which are actively put in plastics use enablers that vary from flame retardants, UV-stabilizers, antimicrobial activity to colorants, plasticizers and solvents.
The exposure of EDC is a problem all over the world. Testing of samples from humans show consistency of problems in nearly almost all people who may have EDCs in their body
Bioplastics/biodegradable plastics which are promoted as more ecological than plastics, contain similar chemical additives as do conventional plastics and also have endocrine disrupting effects.
Microplastics have chemical additions which have ability to come from the microplastic and everyone is exposed. They also can accumulate and bind chemicals that are toxic from the environment such as sediment and seawater, which function as carriers for compounds that are toxic.
Exposure can happen during the entire life span of plastic products – from the manufacturing process to consumer contact, water management and disposal, and recycling.
A large amount of plastics that are used every day inside our homes/work expose us to harmful contaniments of EDC's. Actions are needed globally to keep human health protected and the threat to the environment.
The need for effective public policy to protect human health from EDCs in plastics is even more urgent given the current amounts of plastic production which are projected to increase roughly by 30-36% within the next 6 years. This projection will greatly promote EDC exposure and increase worldwide rates of endocrine diseases. EDCs in plastics are a health issue internationally that is acutely felt in the south worldwide where plastic waste that is toxic ships from more wealthy countries comprise communities. Furthermore, endocrine disrupting chemical exposure is not only a global problem, but it poses a serious threat to future generations. Animal research as shown that DNA modifications from EDCs can have repercussions across generations.
To view the original scientific study click below