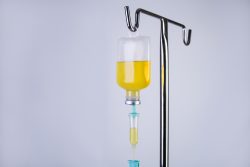 The largest hospital system in New York is now giving high doses of Vitamin C intravenously for patients with COVID 19. The treatment is based on Chinese reports of this approach helping patients with the virus.
Critical care specialist and pulmonologist Dr. Andrew G. Weber has reported that his COVID 19 patients in intensive care are receiving 1,500 mgs of Vitamin C intravenously and are being re-administered the dose 3 to 4 times per day. These doses are 16 times more than the national recommended allowances of 75 mg for adult women and 90 mg for adult men. The approach is based on experimental treatments and small studies with COVID 19 patients in Shanghai, China.
The information from China describes patients with new coronaviral pneumonia who recovered and were discharged from the hospital after high dose Vitamin C. The information also states that early application of large doses of Vitamin C can have a strong antioxidant effect and improve endothelial function. High dose Vitamin C has been shown to not only improve antiviral levels but also can prevent and treat acute respiratory distress and acute lung injury.
Vitamin C is being widely used to treat patients with COVID 19 throughout the system. The treatment protocols do vary from patient to patient. Currently more COVID 19 patients are being treated in the hospital network in New York than anywhere else in the United States.
The Vitamin C treatments are being given along with other medicines including hydroxychloroquine, azithromycin and other biologicals and blood thinners. These "cocktails" are being administered to severely ill patients on a compassionate care basis. The patients who received the additional Vitamin C showed significant improvement over those who did not.
Vitamin C levels drop dramatically in people with COVID 19 when they experience sepsis. Sepsis is an inflammatory response that occurs when the body overreacts to an infection. It therefore makes sense to try and maintain levels of Vitamin C.
A hospital in Wuhan, China is currently conducting clinical trials in regards to the effectiveness of high dose intravenous Vitamin C on COVID 19 patients.