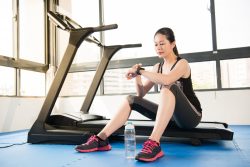 Getting more than the minimum recommended amount of exercise could help you live a healthier and longer life according to a new study. The current guidelines recommend 75 to 300 minutes of exercise on a weekly basis to benefit health. By doing more, you are linked to even a lower risk of issues with heart health and other risk factors. Up to 5 hours of exercise that is vigorous and 10 hours of moderate exercise such as walking may help decrease the risk of early death.
Data was evaluated from more than 100,000 participants over a 30-year period. In follow up, researchers compared the self-reported habits of exercise with the risk of dying from any cause.
Moderate activities were weightlifting, walking, and body weight workouts, while exercise that was vigorous included swimming, running, aerobics and biking. Current guidelines from the Health Department recommend a minimum of 150 minutes of moderate exercise per week, 75 minutes of exercise that is vigorous, or combining them.
The team discovered that participants meeting the minimum guidelines had less all cause mortality by 21% throughout the study than the participants who had less exercise.
However, data from the more avid athletes has suggested that the participants that did 150 to 300 minutes of vigorous exercise weekly had a 21 to 23% lower chance of death. And moderate exercise such as walking from 300 to 600 minutes per week showed better results with 26 to 31% lower mortality risk.
Earlier research has discovered that an intense workout, such as triathlon and marathon training, might increase the health of heart risks, but this was not the finding in this study. While it wasn't beneficial to get more than 10 hours per week of moderate exercise, or 6 hours of intense exercise, there were no side effects from it.
Consistency is the key no matter how much you are exercising for long term benefits. The study establishes evidence to help guide people to select the right intensity and amount of physical activity they need over their life in order to maintain their health overall.
A limitation of the study is the participants were primarily white and were gathered from 2 large surveys of medical professionals, so it isn't clear if the results would apply to other demographics.
Extensive earlier research confirms the benefits of exercise to health in many ways from improving heart health, building muscle, boosting mood, and prevention from age related decline. In conclusion, to get the best results, include of mix of strength training and cardio in your exercise routine.
To view the original scientific study click below:
Long-Term Leisure-Time Physical Activity Intensity and All-Cause and Cause-Specific Mortality: A Prospective Cohort of US Adults