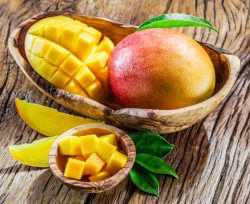 If you're one of the millions of Americans who suffer from chronic constipation, relief may be closer than you think. According to a recent study, 16% of Americans have chronic constipation, and the odds rise to 33% for ages 60 and over. A recent study shows this unpleasant problem may have a pleasant solution.
The mango has been referred to as the "king of fruits" due to its many health benefits. One of these benefits is that the mango is a good source of dietary fiber, which can help to relieve constipation. Multiple studies show that mangoes have a positive effect on digestion. In addition to their digestive benefits, mangoes also offer other health benefits such as disease prevention and improved overall health.
Constipation is a condition that is characterized by occasional bowel movements, usually less than three per week. It can be caused by dehydration, insufficient dietary fiber, and the use of certain drugs such as opioids. While most cases of constipation are simply uncomfortable, in some cases it can be dangerous and even lead to death. Complications can include fecal impactions, anal fissures, and even a perforated colon which will cause bacteria in the bloodstream.
Researchers found that people with chronic constipation benefited from eating mangoes. The researchers studied how much mango people should eat to relieve constipation. They found that 300 grams of mango per day (almost 2 cups) was the right amount to have regular bowel movements and lower inflammation levels.
The bioactive polyphenols in mangoes have been credited with providing relief from constipation. Additionally, the daily consumption of mangoes has been found to improve the makeup of the microbiome, which is linked with immune system health. Mangoes may also ease constipation through their fiber and amylase content.
The mango is a fruit that is rich in antioxidants. These antioxidants include carotenoids, anthocyanins, and flavonoids and help protect the body against disease. These antioxidants scavenge the harmful free radicals that would otherwise trigger oxidative stress along with potentially cancer causing mutations in DNA. Many of the antioxidants in mangoes act synergistically meaning each work together to enhance the benefits of the others.
But the mango has one more preservation of health – a potent compound called mangiferin. Mangiferin is classified as a super-antioxidant. Researchers say mangiferin is also anti-allergenic, antiviral, analgesic, anti-inflammatory and immune system boosting. Researchers credit mangiferin with the potential to fight heart disease, atherosclerosis, and cancer. In studies on animals, mangiferin inhibited angiogenesis which is the ability of tumors to grow new blood vessels and slowed down tumor growth.
The presence of zeaxanthin and lutein in the brilliant yellow pulp of the mango is confirmation to the fruit's health benefits. These carotenoids help to protect the retina, particularly the macula, and ward off age-related macular degeneration. Both zeaxanthin and lutein are beneficial for the eyes, as they scavenge harmful free radicals, absorbing excess ultraviolet light and "blue" light from computer screens and TVs. In a study, people with the highest levels of these carotenoids had 41% lower risk of the development of macular degeneration.
The mango is loaded with an abundance of life giving nutrients, vitamins and minerals. At 99 calories per cup, mangoes have a nutritional benefit. Each fruit has over 2.5 grams of dietary fiber, along with 67% of the recommended daily requirement of Vitamin C. Mangoes also contain magnesium and potassium which help with blood pressure and regulate heartbeat.
Researchers believe that taking nutrients that have been isolated from the mango is not as healthful and effective as eating the fruit. Mangoes pack a nutritional treasures trove of polyphenols and fiber that can help ease constipation.
To view the original scientific study click below:
Polyphenol-rich Mango (Mangifera indica L.) Ameliorate Functional Constipation Symptoms in Humans beyond Equivalent Amount of Fiber