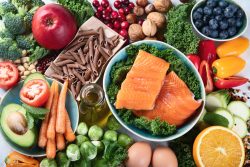 A new study has shown a lower mortality rate in adults aged over 65 can be achieved by adhering to a Mediterranean diet. This analysis was determined from the InCHIANTI project based in Tuscany, Italy. Over a 20-year period a total of 642 women, of which 56% were aged 65 or older participated.
The study team developed a list of dietary biomarkers from the different foods in the Mediterranean diet and evaluated any link they had with mortality.
The team used the participant's urine to note the levels of polyphenols and resveratrol metaboites. They also noted the levels of selenium, carotenoids, fatty acids and vitamin B12 in plasma and the proportion of saturated fatty acids and monounsaturated fatty acids. Through the use of a predictive model, evaluations were made linking a Mediterranean diet and the FFQ (food-frequency questionnaire) with mortality.
There were 425 participant deaths during the monitoring of 20 years, of which 139 were from cardiovascular diseases and 89 were due to cancer-related causes. After the models were analyzed, the score of the Mediterranean diet using the biomarkers was inversely linked with all causes of death.
The study shows the use of dietary biomarkers can be used to help improve nutrition and create an assessment for people who are older.
The team confirms that consuming a Mediterranean diet using an index of dietary biomarkers can be linked with long term mortality in older aged adults. It supports using biomarkers in monitoring evaluations to look at the health benefits linked to the Mediterranean diet.
The conclusions are based on an analysis of dietary biomarkers in urine and plasma and can contribute to the individualized assessment of food for older people.
To view the original scientific study click below:
Adherence to the Mediterranean diet assessed by a novel dietary biomarker score and mortality in older adults: the InCHIANTI cohort study