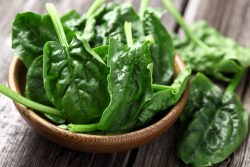 Lutein is a potent antioxidant that offers a wide range of health benefits. It is best known for protecting the eyes and spinach along with other dark leafy vegetables contain the highest levels. Interestingly, a new study from Linkoping University, Sweden, has found that how you prepare fresh spinach and other dark green leafy vegetables can maximize lutein. Of course there are many other nutrients in natural foods that are also better preserved and absorbed using the same approach.
This study allowed the team to see what influence the level of lutein in the blood would have by increasing dietary intake of this antioxidant. The research group studied which method of spinach preparation allowed the greatest benefit of lutein maximization. Spinach was chosen as the vegetable of choice for the study because it contains comparatively high levels of lutein and is also consumed by many people.
Preparation methods that are typically used at home were used in the study. The researchers compared several temperatures and heating times along with cold preparations such as spinach in salads and in smoothies.
The research team used baby spinach from a supermarket in their study. The spinach samples which were prepared in cooked fashion were fried, steamed, and boiled for up to 90 minutes and the lutein content was measured at different times. The team also compared different heating times. Lutein like other nutrients degrades with heat.
The results shows that heating time was important when spinach is boiled. The longer the spinach is boiled the less lutein is retained. When spinach is fried at a high temperature, a large amount of lutein was degraded after just two minutes. And more lutein was lost when spinach was baked in the oven at a higher temperature than when it is cooked in a soup or stew.
The study did show that reheating spinach in the microwave actually compensated for some loss of lutein. More lutein was released from the spinach as the plant structure was further broken down by microwaving.
The best way to maximize lutein from spinach is to not heat it at all. Eating it raw in a salad or adding it to a smoothie gains the most benefits. And when spinach is chopped into small pieces and then a fat added such as a dairy product in a smoothie, more lutein is released and the fat actually increases the solubility of the lutein in the fluid.
Spinach is just one of the great sources of lutein. Other sources include kale, brussel sprouts, parsley, broccoli and peas along with orange juice, kiwi, red peppers, squash and grapes. As concluded in the above study, consuming any of the sources in their raw form gains the most benefits from lutein.
To view the original scientific study click here: Liberation of lutein from spinach: Effects of heating time, microwave-reheating and liquefaction.