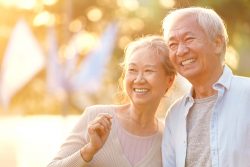 The term 'Blue Zones' identifies geographical regions where people live the longest and healthiest lives. As a result they have the highest percentage of centenarians. These regions are found in Sardinia, Italy; Ikaria, Greece; Okinawa, Japan; Nicoya, Coasta Rica; and Loma Linda, California, USA. After extensive research, scientists have determined that lifestyle habits shared among Blue Zone communities contribute to their longevity. This includes their diet, exercise regimen, spiritual beliefs, and daily practices. Interestingly, many Blue Zone centenarians consume their most substantial meal of the day in the morning and smaller meals later in the day. They prefer whole foods mostly from plants, such as beans, vegetables, oatmeal, fruit, and nuts, while avoiding refined carbohydrates, added sugars, and processed foods. Through these dietary practices, many of them have been able to avoid chronic diseases well into their early 90s.
The individuals with the longest lifespan do not engage in traditional physical fitness routines nor track their daily steps. Rather, their environment naturally encourages them to remain active, constantly in motion. They engage in manual labor such as tending to their gardens and performing household chores without assistance or the aid of modern technology. Their days are filled with a multitude of tasks, resulting in a high level of physical activity and calorie expenditure.
They exhibit a notable sense of direction and motivation. Scientific research has shown that the mere act of harboring a sense of purpose in life can add up to a considerable 7-year increase to overall life expectancy. Residents of the Blue Zones adopt a social environment of belonging. A significant number of centenarians surveyed were members of faith-based communities. Research has proven that attending faith-based meetings at least four times per month significantly elevates the prospects of living longer, regardless of the denomination.
Though inhabitants of Blue Zones do experience stress, but what sets them apart is they possess the knowledge of coping with it effectively. While Okinawans honor their ancestors on a daily basis, Adventists utilize prayer, Ikarians indulge in napping, and Sardinians utilize happy hour to reduce their stress levels. While we all have our preferred method to alleviate stress, engaging in such activities regularly appears to be a powerful tool in combating its adverse effects.
Scientific research reveals that centenarians follow a pattern of eating until they are 80% full. This 20% gap is crucial as it determines whether one gains or loses weight. Their diets are predominantly plant based foods that are rich in nutrients and minerals.. Embracing such dietary habits may be a recipe for a healthy and longer life. Increased consumption of plant-based foods has been linked to a reduction in inflammation, thus contributing to the extended lifespan observed in Blue Zone populations.
In the Blue Zones, the majority of individuals consume alcohol in moderation. This entails drinking 1 to 2 glasses per day while socializing or nourishing themselves, but never to an excessive degree. It is intriguing to note that individuals who drink moderately tend to live longer than those who do not drink at all, a finding that has been supported by previous research.
The traditions of the Blue Zones dictate keeping elderly relatives close to home while investing time and love into children and maintaining a lifelong commitment to a partner. This creates a culture of mutual support that promotes the overall well-being of the family unit at all stages of life. They also prioritize their health and gravitate towards supportive social circles that can play a crucial role in promoting longevity and healthy behavior.
Through the study of the world's longest-living individuals, we may gain insight into how to enhance our own longevity and achieve greater satisfaction in life.
To view the original scientific study click below:
Blue Zones