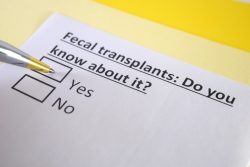 In a landmark decision, the U.S. health regulator has granted approval to Ferring Pharmaceuticals' groundbreaking therapy, Rebyota. This therapy, which utilizes fecal transplants, is the first of its kind to be authorized in the United States.
Rebyota specifically tackles Clostridium difficile, also known as C. difficile—a notorious superbug that causes severe and potentially fatal diarrhea. In the United States alone, this infection leads to a staggering 15,000 to 30,000 deaths each year. Thankfully, with the approval of Rebyota, there is hope for those suffering from recurrent infections.
While fecal microbiota transplants have been the go-to solution for this condition, they were previously categorized as investigational by the FDA. Now, this cutting-edge therapy has been recognized as a standard of care, opening the door to groundbreaking possibilities in the field of infection treatment.
This momentous development marks an important milestone in the battle against antibiotic-resistant bacteria, providing a glimmer of hope for patients and healthcare professionals alike. With Rebyota, we are one step closer to effectively combating life-threatening infections and improving countless lives.
Backed by a team of experts, Rebyota sources its microbes from the feces of healthy donors. This ensures that you receive the highest quality and most effective treatment available. This cutting-edge treatment, delivered through a simple enema, replenishes your body with the power of good gut bacteria.
This is a game-changer in the fight against C. difficile, offering hope to thousands of individuals plagued by its devastating effects. The FDA's endorsement of Rebyota marks a significant advancement in medical science, saving lives and reducing the recurrence of this deadly infection.