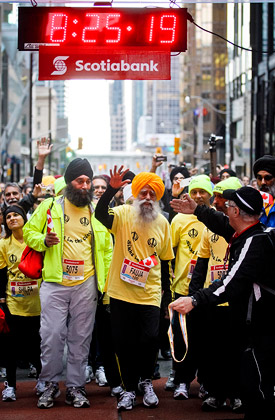 We do not have to lose our independence and ability to live life in our 70's or 80's. Even at the age of 100 years old Fauja Singh completed a marathon.
The race ended just after Fauja Singh crossed the line in 3,851st place. By finishing then he would do what no man before him had ever done. Amid the bundled and cheering crowd in Toronto, underneath a distended but gracious sky, he would complete a marathon. And he would do so at 100 years old.
Was it pain he felt as he approached the end, just footsteps away from redefining the limits of human endurance? No, this wasn't pain. Fauja knew pain. This wasn't pain but exhaustion. And Fauja could handle exhaustion, because exhaustion foreshadowed euphoria. When Fauja got tired, it often meant a record would soon fall.
He'd already broken a few. Fastest to run a marathon (male, over age 90), fastest to run 5,000 meters (male, over age 100), fastest to run 3,000 meters (male, over age 100), and on and on they went. But those records didn't roll off the tongue the way this one would. Oldest person to complete a marathon (male): Fauja Singh.
So Fauja ran in Toronto, arms swinging, yellow turban bobbing, chest-length Zeusian beard swaying in the wind. He was joined by other runners with roots in the Indian region of Punjab, their appearance in keeping with the traditions of their Sikh faith. Fauja trotted for the first three miles, until his coach encouraged him to slow to a jog. Speed was fleeting, the enemy of endurance. By mile 6, he'd downshifted to a toddle. After a break for a rubdown and some tea at mile 18, he settled into a walk.
The exhaustion took hold sometime around mile 20, but Fauja stayed upbeat about the remaining distance. Finally Fauja saw the only mile-marker that mattered: the finish line. What had been silence between footsteps was now music and cheers. The slog to the finish reminded Fauja of his wedding day, of the joy that awaited at the end of the long aisle. He waved to the crowd as he walked across the line, then lifted his arms and accepted a medal. He'd finished in 8 hours, 25 minutes. There were smiles and handshakes and photos with friends and strangers, then a rambling news conference for Fauja to reflect on his record.