Mito ComplexTM Promotes Healthy Aging by Targeting Multi-Path Energy Production in Mitochondrial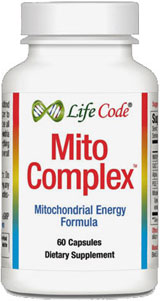 Discount Options:
As we age, we naturally move slower and brain processing speeds decline. Mito ComplexTM provides multi-path mix of natural products that help reverse physical and mental slowness by boosting cellular ATP energy production. Unlike the other Mito products on the market, Mito ComplexTM targets all the major pathways for ATP production to generate synergistic power and energy.
Developed by experts in the anti-aging field, Mito ComplexTM was created using AI techniques and biochemistry to select the best natural products that act on mitochondria to promote energy production. Life Code is a trusted brand with a distinguished 10 year safety record. All components have been prepared in FDA registered facilities and are tripled tested to assure the absence of chemical solvents, toxic metals, or micro-biological contaminants.
Mito ComplexTM Promotes Vitality and Energy
1. Attacks multiple root causes of aging
2. Helps protects against the brain,neural system and other organs
3. Promotes cardiovascular health
Mito Complex Supplement Facts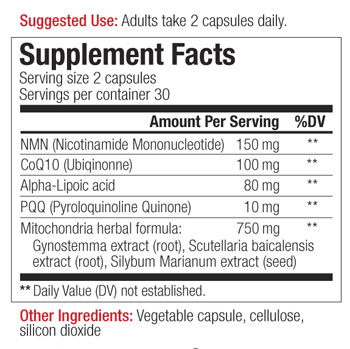 Active Ingredients: Mito ComplexTM Contains
1) Nicotinamide mononucleotide (Mito) is a natural derivative of Vitamin B3 that improves mitochondrial energy production by boosting NAD+ levels, which typically fall with age. Mito has been reported to improve memory, cognition, bone loss, and stress [1-8].
2) Coenzyme Q10 (CoQ10) is an essential part of energy production in mitochondria that often declines after age. CoQ10 promotes energy along with heart, and brain health [9-13].
3) Gynostemma root is neuroprotective and helps fight stress and obesity [14-16]
4) Scutelloria baicalensis (standardized for baicalin) has been widely used as a medicinal plant in China for thousands of years. Baicalin helps with stress, mitochondrial function, and neuroprotection [17-22].
5) Silybum marianum is standardized for Silymarins, which are a complex mix of related Silibins known to promote healthy liver function. Silymarin has been shown to extend lifespan of C. elegans [23], protect neurons [24, 25], stress in brain [26], kidneys [27] and is reported to slow aging of blood vessel endothelial cells by increasing vascular function [28, 29].
6) Alpha-Lipoic acid is an important lipid antioxidant in mitochondria. Alpha-Lipoic acid's effects on mitochondria are neuroprotective [30-33] and promote cardiovascular [34, 35] and immune [36] health.
7) Pyroloquinoline Quinone (PQQ) acts on energy metabolism and mitochondrial function. PQQ boost mitochondrial function and lowers stress [37, 38] while reducing skeletal muscle atrophy [39].
References
1. Hosseini L, Farokhi-Sisakht F, Badalzadeh R, Khabbaz A, Mahmoudi J, Sadigh-Eteghad S: Nicotinamide Mononucleotide and Melatonin Alleviate Aging-induced Cognitive Impairment via Modulation of Mitochondrial Function and Apoptosis in the Prefrontal Cortex and Hippocampus. Neuroscience 2019.
2. Hosseini L, Vafaee MS, Badalzadeh R: Melatonin and Nicotinamide Mononucleotide Attenuate Myocardial Ischemia/Reperfusion Injury via Modulation of Mitochondrial Function and Hemodynamic Parameters in Aged Rats. J Cardiovasc Pharmacol Ther 2019:1074248419882002.
3. Kiss T, Balasubramanian P, Valcarcel-Ares MN, Tarantini S, Yabluchanskiy A, Csipo T, Lipecz A, Reglodi D, Zhang XA, Bari F, et al: Nicotinamide mononucleotide (Mito) treatment attenuates oxidative stress and rescues angiogenic capacity in aged cerebromicrovascular endothelial cells: a potential mechanism for the prevention of vascular cognitive impairment. Geroscience 2019.
4. Klimova N, Kristian T: Multi-targeted Effect of Nicotinamide Mononucleotide on Brain Bioenergetic Metabolism. Neurochem Res 2019, 44:2280-2287.
5. Klimova N, Long A, Kristian T: Nicotinamide mononucleotide alters mitochondrial dynamics by SIRT3-dependent mechanism in male mice. J Neurosci Res 2019, 97:975-990.
6. Liang H, Gao J, Zhang C, Li C, Wang Q, Fan J, Wu Z, Wang Q: Nicotinamide mononucleotide alleviates Aluminum induced bone loss by inhibiting the TXNIP-NLRP3 inflammasome. Toxicol Appl Pharmacol 2019, 362:20-27.
7. Lu L, Tang L, Wei W, Hong Y, Chen H, Ying W, Chen S: Nicotinamide mononucleotide improves energy activity and survival rate in an in vitro model of Parkinson's disease. Exp Ther Med 2014, 8:943-950.
8. Song J, Li J, Yang F, Ning G, Zhen L, Wu L, Zheng Y, Zhang Q, Lin D, Xie C, Peng L: Nicotinamide mononucleotide promotes osteogenesis and reduces adipogenesis by regulating mesenchymal stromal cells via the SIRT1 pathway in aged bone marrow. Cell Death Dis 2019, 10:336.
9. Adarsh K, Kaur H, Mohan V: Coenzyme Q10 (CoQ10) in isolated diastolic heart failure in hypertrophic cardiomyopathy (HCM). Biofactors 2008, 32:145-149.
10. Li G, Jack CR, Yang XF, Yang ES: Diet supplement CoQ10 delays brain atrophy in aged transgenic mice with mutations in the amyloid precursor protein: an in vivo volume MRI study. Biofactors 2008, 32:169-178.
11. Moreira PI, Santos MS, Sena C, Nunes E, Seica R, Oliveira CR: CoQ10 therapy attenuates amyloid beta-peptide toxicity in brain mitochondria isolated from aged diabetic rats. Exp Neurol 2005, 196:112-119.
12. Okudan N, Revan S, Balci SS, Belviranli M, Pepe H, Gokbel H: Effects of CoQ10 supplementation and swimming training on exhaustive exercise-induced oxidative stress in rat heart. Bratisl Lek Listy 2012, 113:393-399.
13. Choi HS, Park MS, Kim SH, Hwang BY, Lee CK, Lee MK: Neuroprotective effects of herbal ethanol extracts from Gynostemma pentaphyllum in the 6-hydroxydopamine-lesioned rat model of Parkinson's disease. Molecules 2010, 15:2814-2824.
14. Aktan F, Henness S, Roufogalis BD, Ammit AJ: Gypenosides derived from Gynostemma pentaphyllum suppress NO synthesis in murine macrophages by inhibiting iNOS enzymatic activity and attenuating NF-kappaB-mediated iNOS protein expression. Nitric Oxide 2003, 8:235-242.
15. Gauhar R, Hwang SL, Jeong SS, Kim JE, Song H, Park DC, Song KS, Kim TY, Oh WK, Huh TL: Heat-processed Gynostemma pentaphyllum extract improves obesity in ob/ob mice by activating AMP-activated protein kinase. Biotechnol Lett 2012, 34:1607-1616.
16. Keilhoff G, Esser T, Titze M, Ebmeyer U, Schild L: Gynostemma pentaphyllum is neuroprotective in a rat model of cardiopulmonary resuscitation. Exp Ther Med 2017, 14:6034-6046.
17. Chen C, Li X, Gao P, Tu Y, Zhao M, Li J, Zhang S, Liang H: Baicalin attenuates alzheimer-like pathological changes and memory deficits induced by amyloid beta1-42 protein. Metab Brain Dis 2015, 30:537-544.
18. Cherng CH, Lee KC, Chien CC, Chou KY, Cheng YC, Hsin ST, Lee SO, Shen CH, Tsai RY, Wong CS: Baicalin ameliorates neuropathic pain by suppressing HDAC1 expression in the spinal cord of spinal nerve ligation rats. J Formos Med Assoc 2014, 113:513-520.
19. de Oliveira MR, Nabavi SF, Habtemariam S, Erdogan Orhan I, Daglia M, Nabavi SM: The effects of baicalein and baicalin on mitochondrial function and dynamics: A review. Pharmacol Res 2015, 100:296-308.
20. Ding XM, Pan L, Wang Y, Xu QZ: Baicalin exerts protective effects against lipopolysaccharide-induced acute lung injury by regulating the crosstalk between the CX3CL1-CX3CR1 axis and NF-kappaB pathway in CX3CL1-knockout mice. Int J Mol Med 2016, 37:703-715.
21. Dong SJ, Zhong YQ, Lu WT, Li GH, Jiang HL, Mao B: Baicalin Inhibits Lipopolysaccharide-Induced Inflammation Through Signaling NF-kappaB Pathway in HBE16 Airway Epithelial Cells. Inflammation 2015, 38:1493-1501.
22. Li S, Sun X, Xu L, Sun R, Ma Z, Deng X, Liu B, Fu Q, Qu R, Ma S: Baicalin attenuates in vivo and in vitro hyperglycemia-exacerbated ischemia/reperfusion injury by regulating mitochondrial function in a manner dependent on AMPK. Eur J Pharmacol 2017, 815:118-126.
23. Kumar J, Park KC, Awasthi A, Prasad B: Silymarin extends lifespan and reduces proteotoxicity in C. elegans Alzheimer's model. CNS Neurol Disord Drug Targets 2015, 14:295-302.
24. Hirayama K, Oshima H, Yamashita A, Sakatani K, Yoshino A, Katayama Y: Neuroprotective effects of silymarin on ischemia-induced delayed neuronal cell death in rat hippocampus. Brain Res 2016, 1646:297-303.
25. Hou YC, Liou KT, Chern CM, Wang YH, Liao JF, Chang S, Chou YH, Shen YC: Preventive effect of silymarin in cerebral ischemia-reperfusion-induced brain injury in rats possibly through impairing NF-kappaB and STAT-1 activation. Phytomedicine 2010, 17:963-973.
26. Nencini C, Giorgi G, Micheli L: Protective effect of silymarin on oxidative stress in rat brain. Phytomedicine 2007, 14:129-135.
27. Bin F, Meng R, Bin H, Bi Y, Shen S, Zhu D: Silymarin protects against renal injury through normalization of lipid metabolism and mitochondrial biogenesis in high fat-fed mice. Free Radic Biol Med 2017, 110:240-249.
28. Demirci B, Demir O, Dost T, Birincioglu M: Treated effect of silymarin on vascular function of aged rats: Dependant on nitric oxide pathway. Pharm Biol 2013.
29. Demirci B, Dost T, Gokalp F, Birincioglu M: Silymarin improves vascular function of aged ovariectomized rats. Phytother Res 2014, 28:868-872.
30. Farr SA, Price TO, Banks WA, Ercal N, Morley JE: Effect of alpha-lipoic acid on memory, oxidation, and lifespan in SAMP8 mice. J Alzheimers Dis 2012, 32:447-455.
31. Liu J, Head E, Gharib AM, Yuan W, Ingersoll RT, Hagen TM, Cotman CW, Ames BN: Memory loss in old rats is associated with brain mitochondrial decay and RNA/DNA oxidation: partial reversal by feeding acetyl-L-carnitine and/or R-alpha -lipoic acid. Proc Natl Acad Sci U S A 2002, 99:2356-2361.
32. Senoglu M, Nacitarhan V, Kurutas EB, Senoglu N, Altun I, Atli Y, Ozbag D: Intraperitoneal Alpha-Lipoic Acid to prevent neural damage after crush injury to the rat sciatic nerve. J Brachial Plex Peripher Nerve Inj 2009, 4:22.
33. Wei W, Wang H, Wu Y, Ding K, Li T, Cong Z, Xu J, Zhou M, Huang L, Ding H, Wu H: Alpha lipoic acid inhibits neural apoptosis via a mitochondrial pathway in rats following traumatic brain injury. Neurochem Int 2015, 87:85-91.
34. Padmalayam I: Targeting mitochondrial oxidative stress through lipoic acid synthase: a novel strategy to manage diabetic cardiovascular disease. Cardiovasc Hematol Agents Med Chem 2012, 10:223-233.
35. Skibska B, Goraca A: The protective effect of lipoic acid on selected cardiovascular diseases caused by age-related oxidative stress. Oxid Med Cell Longev 2015, 2015:313021.
36. Palaniyappan A, Alphonse R: Immunomodulatory effect of DL-alpha-lipoic acid in aged rats. Exp Gerontol 2011, 46:709-715.
37. Harris CB, Chowanadisai W, Mishchuk DO, Satre MA, Slupsky CM, Rucker RB: Dietary pyrroloquinoline quinone (PQQ) alters indicators of inflammation and mitochondrial-related metabolism in human subjects. J Nutr Biochem 2013, 24:2076-2084.
38. Singh AK, Pandey SK, Saha G, Gattupalli NK: Pyrroloquinoline quinone (PQQ) producing Escherichia coli Nissle 1917 (EcN) alleviates age associated oxidative stress and hyperlipidemia, and improves mitochondrial function in ageing rats. Exp Gerontol 2015, 66:1-9.
39. Ma W, Zhang R, Huang Z, Zhang Q, Xie X, Yang X, Zhang Q, Liu H, Ding F, Zhu J, Sun H: PQQ ameliorates skeletal muscle atrophy, mitophagy and fiber type transition induced by denervation via inhibition of the inflammatory signaling pathways. Ann Transl Med 2019, 7:440.
FDA Disclaimer: These products have not been approved by the FDA and are not intended to diagnose, prevent, treat, or cure any disease.