Stem Cell Support to Help Rejuvenate Skin, the Digestive Tract, Joints, and other Tissues that Require High Cell Turnover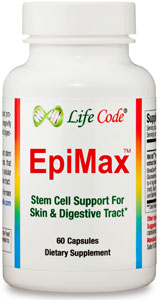 Discount Options:
Some parts of the human body contain large numbers of epithelial cells which replicate often to replace the damaged or dead cells that are constantly sloughing off. This rapid cell turnover is highly dependent on youthful populations of epithelial stem cells to replace those that are continually lost. This declines rapidly as we age. This effects:
– Digestive Tract (stomach, small intestine, colon)
– Skin
– Joints
– Lungs
– Mouth
– Throat
– Nasal Passages
– Reproductive Organs
– Other mucous membranes
Epithelial cells form a barrier to the outside world and also function in absorption and active transport of nutrients (e.g. the intestines), secretion and lubrication (e.g. mouth, trachea, reproductive organs, and lungs), and sensory (e.g. taste and smell) modes. All of these functions typically decline with age due in large part to poorly functioning epithelial stem cells.
For example, if the epithelial cells that line the intestinal track perform poorly, intestinal problems often accumulate to provide poor absorption of nutrients, immune dysregulation, irregular bowel movements, and painful abdominal gas. EpiMaxTM contains herbal extracts with the ability to promote epithelial stem cells [1-10]. Thus, EpiMaxTM promotes youthful levels of epithelial cell turnover in the intestine and colon to help reduce chronic digestive issues and abdominal discomfort.
Aging is clearly observed in a person's face.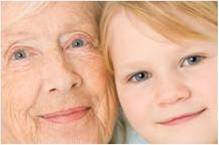 Aging can also be observed in the epithelial cells of the digestive tract and skin.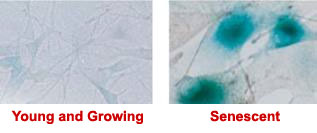 Digestive Tract and Skin Aging Has Many Subtle Effects and Hidden Causes
No topical cream, dietary product, or plastic surgeon treatment has attempted to tackle all the problems listed below of epithelium aging and most would say it is an impossible task in any case. Nevertheless, epithelium aging has many causes and for any treatment to have a reasonable chance of success, it must address most, if not all, of the many causes of epithelium aging. EpiMaxTM is the first multi-pathway epithelium treatment that tackles multiple factors listed below that lead to aging skin and/or intestinal issues. Taken over a period of at least three months or longer, EpiMaxTM can begin to restore many aspects of youthful epithelium tissues by acting on the underlying molecular and cellular causes given below.
(1) Epithelial stem cells become dysfunctional with age, which lessens healthy epithelium.
(2) Many senescent skin cells stick around to replace the loss of healthy epithelial cells.
(3) Skin gets thinner, discolored, and wrinkled due to the decline of healthy epithelial cells.
(4) Epithelial healing is slowed and often incomplete, leaving damaged skin or intestines.
(5) Blood supply to epithelial tissues is reduced with age, as blood circulation declines.
(6) Unsightly varicose veins can proliferate on ankles, legs, or the back of the hands.
(7) Skin sags as its attachment to underlying bone, muscle, and ligaments are reduced.
(8) Melanocytes put out too much or too little melanine, creating dark or light aging spots.
(9) Absorption and active transport in the intestines often declines with age.
(10) Skin tone and texture take on the look of irregular and aged skin.
EpiMaxTM Promotes Digestive Track, Vascular, and Skin Health
1. Formulated from herbal extracts that promote functional adult stem cells [1-10].
2. Promotes wound and scar healing [11-15].
3. Promotes vascular health [16-21].
4. Helps to heal varicose veins [22,23].
5. Provides Type I and Type X collagens to strengthen ligament attachment of skin or intestines to the underlying muscle and bone tissue [24,25].
6. Reduces expression of melanocyte producing genes to reduce dark aging spots [15,26-28].
7. Increases the production of Type II Collagen, Extra Cellular Matric (ECM), and hyaluronic acid to promote the functioning of bone, cartilage, intestines, and skin [15,29-37].
8. Helps reduce joint pain and stiffness [38,39].
9. Promotes healthier epithelial function [19,40].
10. Helps to reduce inflammation responses to various forms of stress [30,41-43].
EpiMaxTM Supplement Facts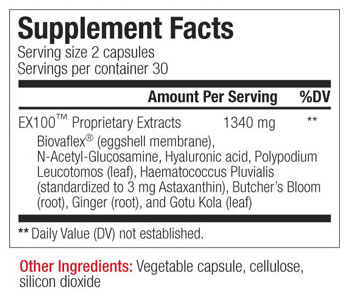 The highly extracted natural herbs are standardized for active components that promote adult epithelial stem cells which are the rapid turn over cells found in skin, the digestive tract, lungs and mucous membranes. They have been tested as a synergistic herbal formulation with the most effective dosage of each component:
1) Egg Shell Membrane (ESM) is derived from the membrane covering chicken eggs. BiovaFlex® is a patented form of ESM that has been partially digested to be more bioavailable in the body. BiovaFlex® contains type 1 collagen and elastin, as well as various forms of glucosamine and chondroitin. Collagen is the 'glue' that holds skin to the underlying muscle and bone, which typically becomes less functional and 'looser' with age. Elastin gives skin the ability to snap back after stretching. BiovaFlex® helps reduce the appearance of fine lines and wrinkles, while hydrating the skin to improve skin tone.
2) N-acetyl-glucosamine (NAG) is a more bioavailable natural form of glucosamine. NAG has specific effects on skin fibroblasts, which include promoting digestive health and skin health. NAG also helps skin fibroblasts to retain their youthful structure and function, leading to clear antiaging effects on skin.
3) Polypodium Leucotomus leaf is recommended by many dermatologists and helps prevent itchy and inflamed skin, sunburn, and white spots. It acts partly by inducing the p53 gene, which protects the genome from damage.
4) Hematococcus pluvialis extract (standardized for Astaxanthin) is nature's super antioxidant (some 800 times stronger than CoQ10) that inhibits the COX 2 enzymes, TNF-alpha, and C-Reactive Protein (CRP). Astaxanthin also stimulates FOXO 3, which is a known longevity gene. Astaxanthin strongly supports the skin by promoting elasticity and smoothness, while inhibiting sunburn, wrinkles, and freckles.
5) Butcher's broom (Ruscus aculeatus) root extract has been used for centuries to promote circulation and enhance blood flow to the major organs, the colon, skin, and body extremities. It can reduce capillary fragility and swollen legs.
6) Ginger root helps prevent gas, nausea, and stomach upset and discomfort.
7) Gotu Kola (Centella asiatica) leaf extracts have been used for thousands of years in China and India for wound healing and skin or lung conditions. It has been called the fountain of life by some individuals in China, who were renowned for their longevity.
8) Daemonorops Draco functions as a cosmetic astringent used to improve skin health.
References
1. Beri K, Milgraum SS (2015) Neocollagenesis in Deep and Superficial Dermis by Combining Fractionated Q-Switched ND:YAG 1,064-nm With Topical Plant Stem Cell Extract and N-Acetyl Glucosamine: Open Case Series. J Drugs Dermatol 14: 1342-1346.
2. Derfoul A, Miyoshi AD, Freeman DE, Tuan RS (2007) Glucosamine promotes chondrogenic phenotype in both chondrocytes and mesenchymal stem cells and inhibits MMP-13 expression and matrix degradation. Osteoarthritis Cartilage 15: 646-655.
3. Huang CH, Tseng WY, Yao CC, Jeng JH, Young TH, et al. (2010) Glucosamine promotes osteogenic differentiation of dental pulp stem cells through modulating the level of the transforming growth factor-beta type I receptor. J Cell Physiol 225: 140-151.
4. Hwang NS, Varghese S, Theprungsirikul P, Canver A, Elisseeff J (2006) Enhanced chondrogenic differentiation of murine embryonic stem cells in hydrogels with glucosamine. Biomaterials 27: 6015-6023.
5. Jeon JH, Suh HN, Kim MO, Han HJ (2013) Glucosamine-induced reduction of integrin beta4 and plectin complex stimulates migration and proliferation in mouse embryonic stem cells. Stem Cells Dev 22: 2975-2989.
6. Jeon JH, Suh HN, Kim MO, Ryu JM, Han HJ (2014) Glucosamine-induced OGT activation mediates glucose production through cleaved Notch1 and FoxO1, which coordinately contributed to the regulation of maintenance of self-renewal in mouse embryonic stem cells. Stem Cells Dev 23: 2067-2079.
7. Kidd P (2011) Astaxanthin, cell membrane nutrient with diverse clinical benefits and anti-aging potential. Altern Med Rev 16: 355-364.
8. Kim JH, Choi W, Lee JH, Jeon SJ, Choi YH, et al. (2009) Astaxanthin inhibits H2O2-mediated apoptotic cell death in mouse neural progenitor cells via modulation of P38 and MEK signaling pathways. J Microbiol Biotechnol 19: 1355-1363.
9. Kim JH, Nam SW, Kim BW, Choi W, Lee JH, et al. (2010) Astaxanthin improves stem cell potency via an increase in the proliferation of neural progenitor cells. Int J Mol Sci 11: 5109-5119.
10. Kim JH, Nam SW, Kim BW, Kim WJ, Choi YH (2010) Astaxanthin improves the proliferative capacity as well as the osteogenic and adipogenic differentiation potential in neural stem cells. Food Chem Toxicol 48: 1741-1745.
11. Chandrika UG, Prasad Kumarab PA (2015) Gotu Kola (Centella asiatica): Nutritional Properties and Plausible Health Benefits. Adv Food Nutr Res 76: 125-157.
12. Jin SG, Kim KS, Yousaf AM, Kim DW, Jang SW, et al. (2015) Mechanical properties and in vivo healing evaluation of a novel Centella asiatica-loaded hydrocolloid wound dressing. Int J Pharm 490: 240-247.
13. Yao CH, Yeh JY, Chen YS, Li MH, Huang CH (2015) Wound-healing effect of electrospun gelatin nanofibres containing Centella asiatica extract in a rat model. J Tissue Eng Regen Med.
14. Bylka W, Znajdek-Awizen P, Studzinska-Sroka E, Danczak-Pazdrowska A, Brzezinska M (2014) Centella asiatica in dermatology: an overview. Phytother Res 28: 1117-1124.
15. Bissett DL (2006) Glucosamine: an ingredient with skin and other benefits. J Cosmet Dermatol 5: 309-315.
16. Imani H, Tabibi H, Najafi I, Atabak S, Hedayati M, et al. (2015) Effects of ginger on serum glucose, advanced glycation end products, and inflammation in peritoneal dialysis patients. Nutrition 31: 703-707.
17. Khandouzi N, Shidfar F, Rajab A, Rahideh T, Hosseini P, et al. (2015) The effects of ginger on fasting blood sugar, hemoglobin a1c, apolipoprotein B, apolipoprotein a-I and malondialdehyde in type 2 diabetic patients. Iran J Pharm Res 14: 131-140.
18. Ghayur MN, Gilani AH (2005) Ginger lowers blood pressure through blockade of voltage-dependent calcium channels. J Cardiovasc Pharmacol 45: 74-80.
19. Regnier P, Bastias J, Rodriguez-Ruiz V, Caballero-Casero N, Caballo C, et al. (2015) Astaxanthin from Haematococcus pluvialis Prevents Oxidative Stress on Human Endothelial Cells without Toxicity. Mar Drugs 13: 2857-2874.
20. Redman DA (2000) Ruscus aculeatus (butcher's broom) as a potential treatment for orthostatic hypotension, with a case report. J Altern Complement Med 6: 539-549.
21. Yang T, Li Y, Ma M, Lin Q, Sun S, et al. (2015) Protective effect of soluble eggshell membrane protein hydrolysate on cardiac ischemia/reperfusion injury. Food Nutr Res 59: 28870.
22. Bylka W, Kornobis J (2005) [Butcher's Broom, in the treatment of venous insufficiency]. Pol Merkur Lekarski 19: 234-236.
23. Vanscheidt W, Jost V, Wolna P, Lucker PW, Muller A, et al. (2002) Efficacy and safety of a Butcher's broom preparation (Ruscus aculeatus L. extract) compared to placebo in patients suffering from chronic venous insufficiency. Arzneimittelforschung 52: 243-250.
24. Mohammadi R, Mohammadifar MA, Mortazavian AM, Rouhi M, Ghasemi JB, et al. (2016) Extraction optimization of pepsin-soluble collagen from eggshell membrane by response surface methodology (RSM). Food Chem 190: 186-193.
25. Arias JL, Fernandez MS, Dennis JE, Caplan AI (1991) The fabrication and collagenous substructure of the eggshell membrane in the isthmus of the hen oviduct. Matrix 11: 313-320.
26. Nakajima H, Fukazawa K, Wakabayashi Y, Wakamatsu K, Senda K, et al. (2012) Abrogating effect of a xanthophyll carotenoid astaxanthin on the stem cell factor-induced stimulation of human epidermal pigmentation. Arch Dermatol Res 304: 803-816.
27. Rao AR, Sindhuja HN, Dharmesh SM, Sankar KU, Sarada R, et al. (2013) Effective inhibition of skin cancer, tyrosinase, and antioxidative properties by astaxanthin and astaxanthin esters from the green alga Haematococcus pluvialis. J Agric Food Chem 61: 3842-3851.
28. Hama S, Takahashi K, Inai Y, Shiota K, Sakamoto R, et al. (2012) Protective effects of topical application of a poorly soluble antioxidant astaxanthin liposomal formulation on ultraviolet-induced skin damage. J Pharm Sci 101: 2909-2916.
29. Chang NJ, Lin YT, Lin CC, Wang HC, Hsu HC, et al. (2015) The repair of full-thickness articular cartilage defect using intra-articular administration of N-acetyl-D-glucosamine in the rabbit knee: randomized controlled trial. Biomed Eng Online 14: 105.
30. Kim MM, Mendis E, Rajapakse N, Kim SK (2007) Glucosamine sulfate promotes osteoblastic differentiation of MG-63 cells via anti-inflammatory effect. Bioorg Med Chem Lett 17: 1938-1942.
31. Varghese S, Theprungsirikul P, Sahani S, Hwang N, Yarema KJ, et al. (2007) Glucosamine modulates chondrocyte proliferation, matrix synthesis, and gene expression. Osteoarthritis Cartilage 15: 59-68.
32. Poustie MW, Carran J, McEleney K, Dixon SJ, Anastassiades TP, et al. (2004) N-butyryl glucosamine increases matrix gene expression by chondrocytes. J Pharmacol Exp Ther 311: 610-616.
33. Stoppoloni D, Politi L, Leopizzi M, Gaetani S, Guazzo R, et al. (2015) Effect of glucosamine and its peptidyl-derivative on the production of extracellular matrix components by human primary chondrocytes. Osteoarthritis Cartilage 23: 103-113.
34. Nagaoka I, Igarashi M, Sakamoto K (2012) Biological activities of glucosamine and its related substances. Adv Food Nutr Res 65: 337-352.
35. Igarashi M, Kaga I, Takamori Y, Sakamoto K, Miyazawa K, et al. (2011) Effects of glucosamine derivatives and uronic acids on the production of glycosaminoglycans by human synovial cells and chondrocytes. Int J Mol Med 27: 821-827.
36. Uitterlinden EJ, Koevoet JL, Verkoelen CF, Bierma-Zeinstra SM, Jahr H, et al. (2008) Glucosamine increases hyaluronic acid production in human osteoarthritic synovium explants. BMC Musculoskelet Disord 9: 120.
37. Bassleer C, Rovati L, Franchimont P (1998) Stimulation of proteoglycan production by glucosamine sulfate in chondrocytes isolated from human osteoarthritic articular cartilage in vitro. Osteoarthritis Cartilage 6: 427-434.
38. Ruff KJ, DeVore DP, Leu MD, Robinson MA (2009) Eggshell membrane: a possible new natural therapeutic for joint and connective tissue disorders. Results from two open-label human clinical studies. Clin Interv Aging 4: 235-240.
39. Ruff KJ, Winkler A, Jackson RW, DeVore DP, Ritz BW (2009) Eggshell membrane in the treatment of pain and stiffness from osteoarthritis of the knee: a randomized, multicenter, double-blind, placebo-controlled clinical study. Clin Rheumatol 28: 907-914.
40. Morita T (1993) Radioautographic study on the aging change of 3H-glucosamine uptake in mouse ileum. Cell Mol Biol (Noisy-le-grand) 39: 875-884.
41. Dalirfardouei R, Karimi G, Jamialahmadi K (2016) Molecular mechanisms and biomedical applications of glucosamine as a potential multifunctional therapeutic agent. Life Sci 152: 21-29.
42. Park SH, Hong H, Han YM, Kangwan N, Kim SJ, et al. (2013) Nonsteroidal anti-inflammatory drugs (NSAID) sparing effects of glucosamine hydrochloride through N-glycosylation inhibition; strategy to rescue stomach from NSAID damage. J Physiol Pharmacol 64: 157-165.
43. Haghighat A, Behnia A, Kaviani N, Khorami B (2013) Evaluation of Glucosamine sulfate and Ibuprofen effects in patients with temporomandibular joint osteoarthritis symptom. J Res Pharm Pract 2: 34-39.
FDA Disclaimer: These products have not been approved by the FDA and are not intended to diagnose, prevent, treat, or cure any disease.